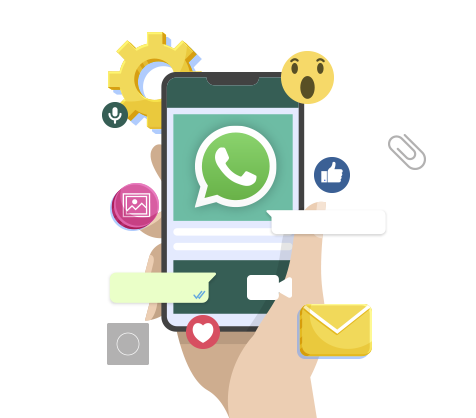 Bulk WhatsApp Message Sender
Send Bulk WhatsApp Messages to Customers and Prospects Directly From PC
Improve Marketing Role and Make Business Communication Smoother and Faster Send Bulk Msg
Just send WhatsApp messages to all contacts including contacts not saved in your address book with a click.
Manage millions of accounts for different tasks.
Schedule Message
Send Attachment with image, audio, video, pdf, word document, ppt, etc.
Import contact details from Excel, CSV, TXT files or by copying and pasting.
Set variables to make the content of each message different
Sleep control, Speed control, Delay control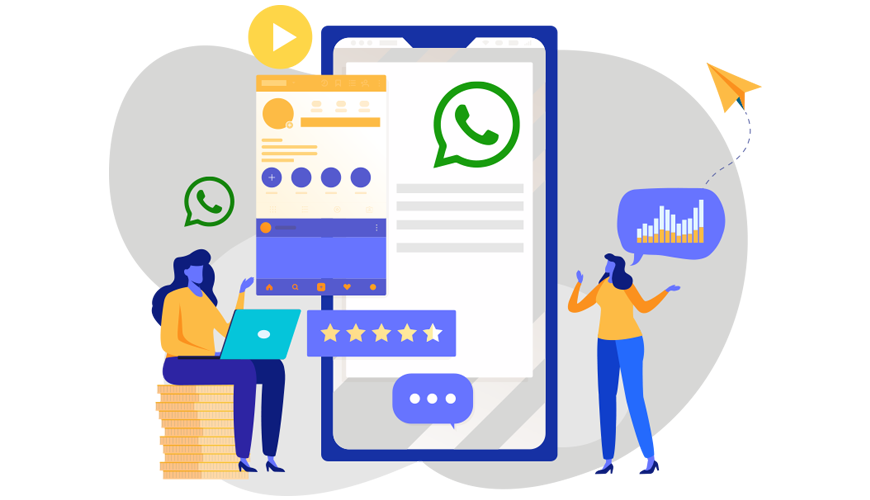 Advanced Features
Filter - Filter if the number is a WhatsApp number so that you can find your target recipient more easily
Search - Capture any phone number on the internet by entering a keyword. You can add the prefix of your area to accurately search contacts in your area.
Fetch - Extract all contacts from the contact list of WhatsApp groups and non-friends. You can specify a group to extract contacts.
SendGroup - Send messages to all groups at once. You can send a message to all groups at once or to a specific group.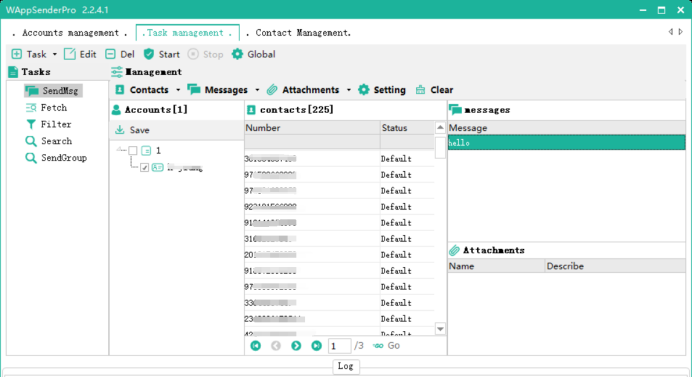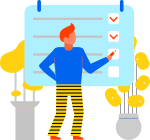 Anti-blocking technology
It features the latest programming technology that reduces the chance to get blocked

Free Update
We update our software often and you can always get the newest version by updating

Easy to Use
Follow the video tutorials and you'll learn how to use it in no time

Active Support
You can contact us by using Live Chat or Support Tickets on the website
Join Our Group!
You will get more discount coupons in the groups. Scan those QR Code to join us now!
Main Features
Verify Accounts
Verify accounts by scanning QR code
Multiple Accounts Supported
Unlimitedly manage millions of WhatsApp accounts for different task(s) and send bulk messages directly
Multi-thread Supported
Create unlimited messages sending tasks to send your messages super fast
Import Contacts Manually or From File
Import unlimited contacts from your files
Send Message with Multi-media
Support text, emoji, image, audio, video, pdf, word document, ppt, etc.
Support Multiple Languages
Message in any languages is supported
Send Messages to Unsaved Contacts
Send messages to anyone you want
Schedule messages
Schedule messages to be sent at any time you want
Delay Between Each Message and Each Contact
Allow setting the interval time
Spintax Module
Allow to spin text manually
Fetch Group Contacts
Grab contacts from your groups and unfriend lists
Filter Function
Contact filter for all your contacts through multiple options
WhatsApp Contacts Scraper
Scrape unlimited WhatsApp contacts from the Internet
Blacklist Function
Block the contacts you do not want to send messages
Proxy support
Bind different proxies for different accounts to protect your account
NEW YEAR PROMOTION
Only today! Only for the top 20 lucky customers. Hurry up!
Buy any version of WAppSenderPro today, you will not only enjoy a 40% off, but also get 2 licenses of that version. And you will also get a WhatsApp version of AccountSpeeder for FREE. AccountSpeeder is an account booster software, will make your WhatsApp accounts more active and responsive, and get higher account weight easily!
After purchasing WAppSenderPro today, please contact the support team to get the extra license and donated software.
FAQ
We recommend that you download our application through chrome. If that still fails, you can immediately submit a support ticket to us or contact our online customer service.
If the installation package you download is usually a zip package, you need to unzip it into a folder and run the wappsenderpro.exe.
In the program, you can add as many accounts as you want and verify them without any limit.
You should be aware that this is our number, which is operated and managed by Whatsapp, and that accounts can be suspended if they violate the platform's rules or engage in potentially harmful social behavior in any way. Our program can only manage accounts automatically through some information technology, making it possible for us to send bulk information freely.
Yes, we've put together some ways to reduce the risk. Please look it up.
Windows cannot load whatsapp, please check your network, proxy IP is working. We have a run time set in our program, and if it times out, it will automatically close the page. You should click Stop instead of closing it manually.
In our program, the default is 1 thread. When you need to run multiple numbers, please set the number of threads you need to run at the same time in the task Settings.
Our software supports HTTP IPV4 and do not recommend to use free proxy for your whatsapp accounts.
Want More Features That This Software Does Not Have?
Submit your need here, we will check and give you reply asap.